Blockchain game development
Since blockchain technology was developed, many opportunities have opened up for gamedev.
During decentralized games development process, Dapplica uses all the strengths of the blockchain to create a better user gaming experience.
Transparent and trustless game process
Blockchain gives unique advantages for games, that is highly appreciated by gamers. Decentralized games includes a transparent open ledger of in-game actions which every one could learn, copy, analyze and check. This history is open for any person. 
Another huge advantage is a trustless random numbers generation. Any blockchain random actions are provable. This means no influence from the developer side.
Tokenized digital assets
With blockchain, gaming industry got new approach of digital assets management – Non-Fungible tokens (NFT's). This approach is using to represent any unique in-game asset in a form of a token, which is placed in a blockchain database
Digital assets tangibility
Thanks to this approach, NFT's owner has it on his blockchain account. Unlike regular in-game digital assets, game developer has nothing to do with user's asset. NFT's are belong to its owner and totally tangible. Asset owner can dispose it as a regular material asset – trade, move or even destroy.
Cross-game assets usage
Same non-fungible tokens from one game can be transferred and used in different blockchain games. User might be free to play different games with the same bunch of assets.
Dark Country is american gothic game world with items created, owned and managed by players. Based on the classic Collectible Card Games (CCG), it offers users to open the full potential of items' tangibility with different game modes and features.
Card game, City Builder, Idle – a special combination of game genres and in-game features gives users a unique gaming experience and offers to use the potential of NFT's to the full.
Alfa version was launched June '20 in 2020.
NEST — Decentralized Gamers Hub
It connects game developers and players. NEST is flexible, so you can use our Smart Contracts written on WAX blockchain to plug your game into our platform at a minimum effort.
There are two ways you can use NEST right now:
For simple single-player games, you even no need to know any blockchain coding. Just use our smart contracts, call them in appropriate places of your server code and voila.
For more complex games, you might need to code your blockchain smart contracts and still use NEST for a big part of what is needed. Details are below.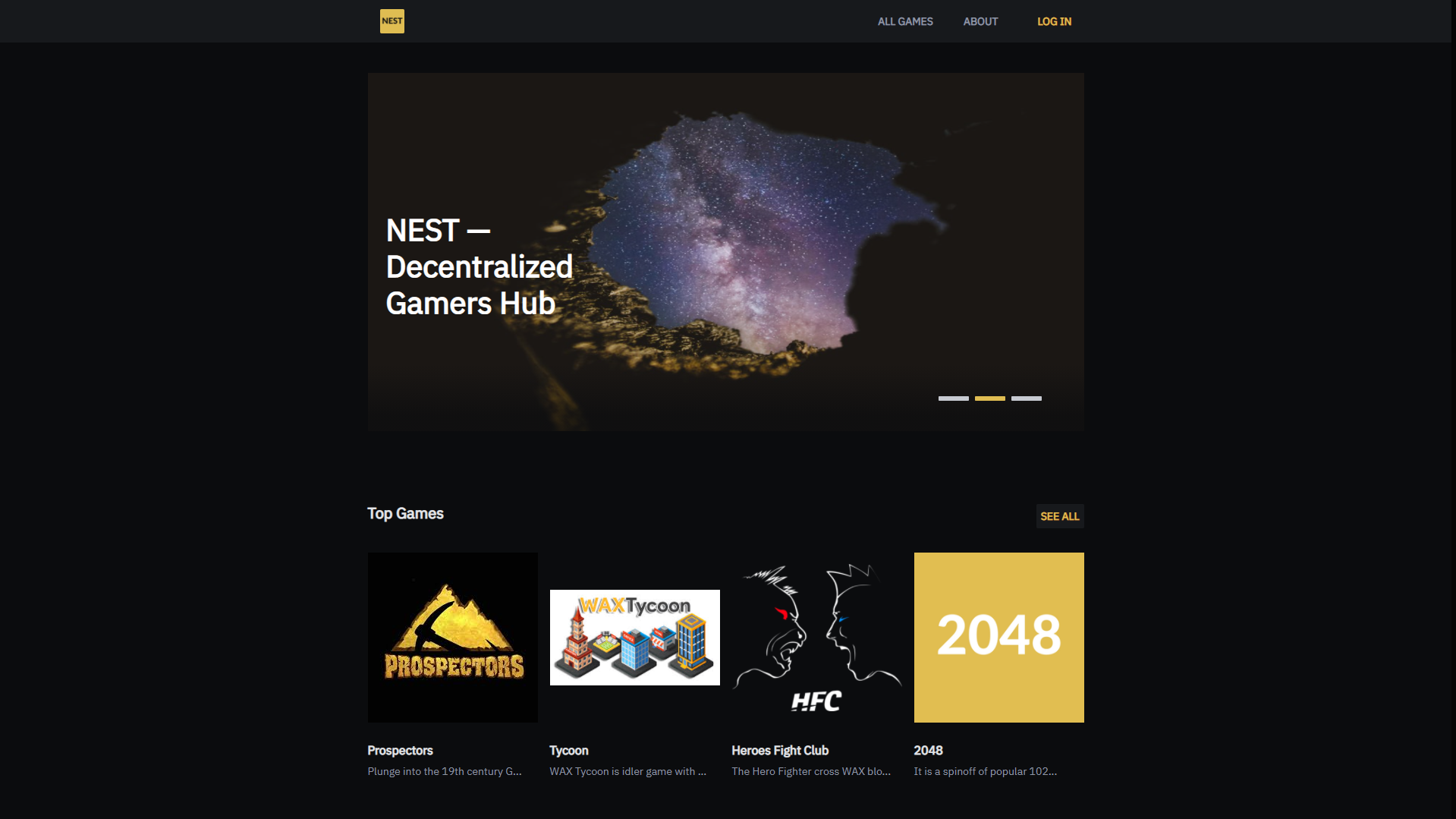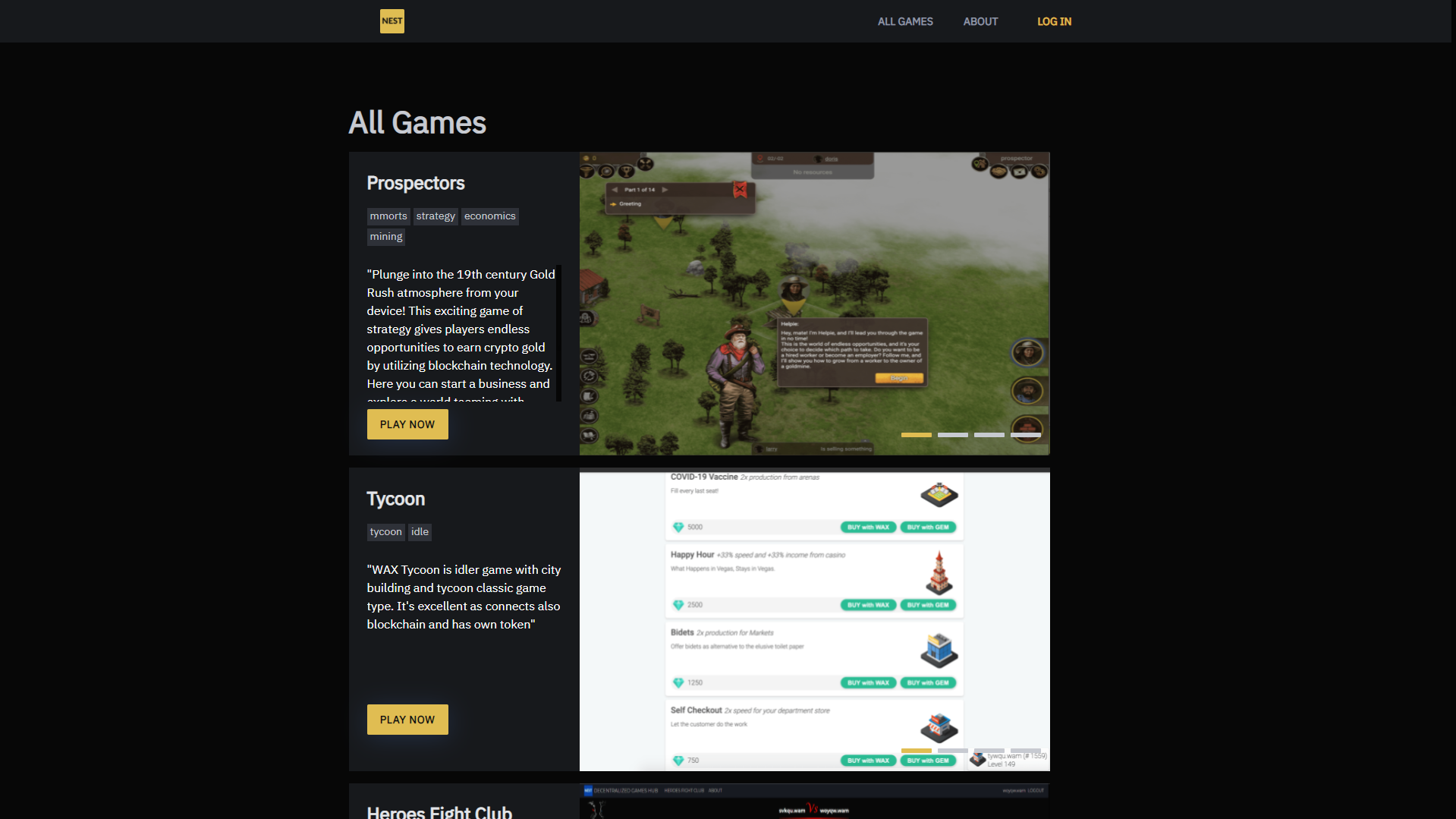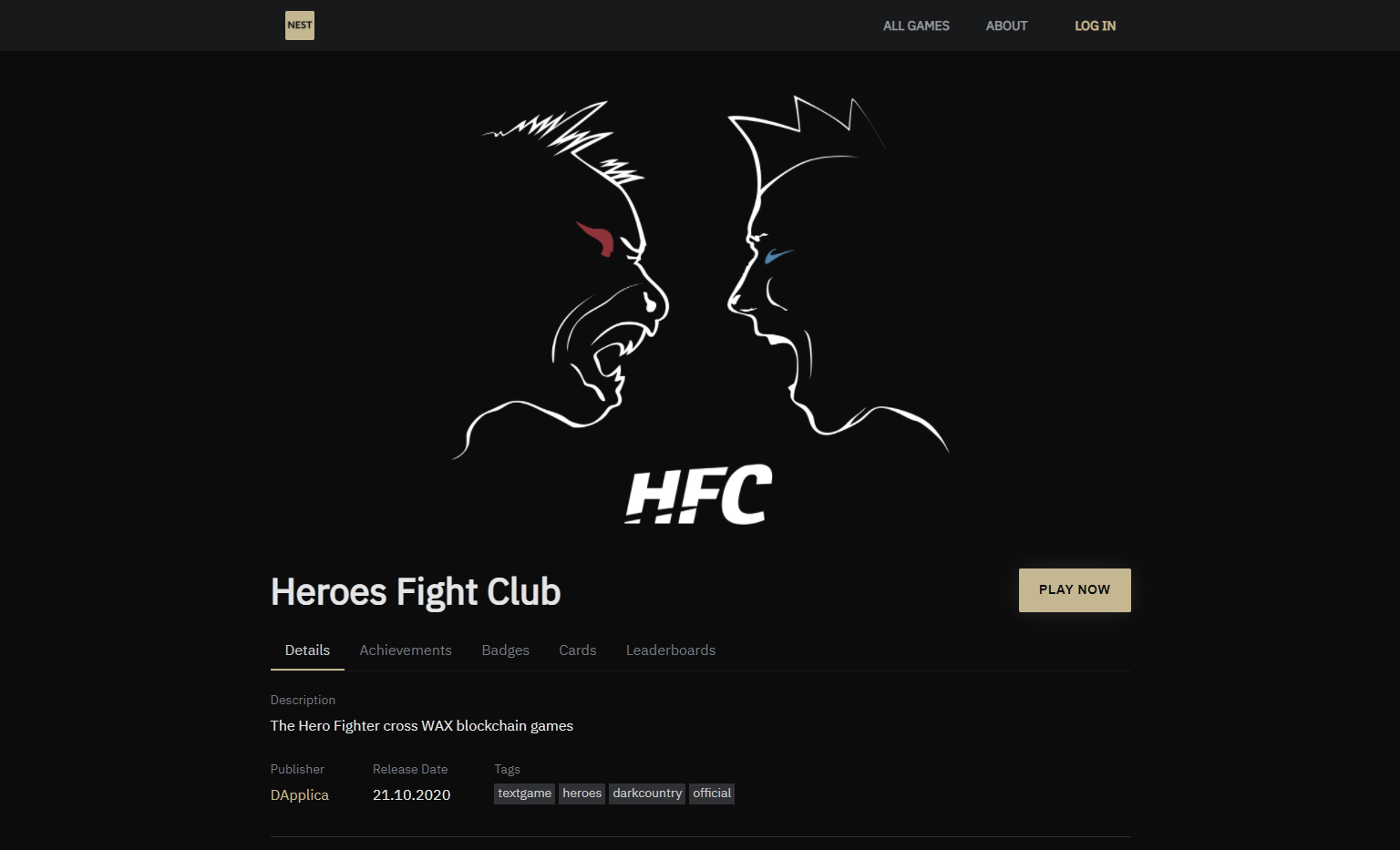 Gaming multichain platform
Dapplica can provide multichain solution for your game. Ethereum, EOS, WAX, Flow and many other blockchains with NFT standards can be connected in one game to cover bigger audience and provide various choices for a user.
Game development
We can cope with whole blockchain game development process within prepared game concept framework. Our team includes specialists to cover such stages like smart contract development, back-end, front-end, server part, game arts and marketing.
Blockchain game design
Blockchain games has several major differences comparing with regular games. Having an experience of such games design, Dapplica team can consult you or prepare detailed game concept.
Marketing support
It is essential to start communication with your potential audience before game launch to grow follower base and spread the word about you project. We can help you prepare and implement complex, consistent communication strategy.
At the early stages of Prospectors game launch preparation we had a lack of capacity with smart contract development and marketing. We were looking for a partner who would be able to ensure professional solutions in these directions. Dapplica coped with both expertly. Prospectors team highly recommend Dapplica as a full cycle blockchain development company.
Nazar Chervinskiy
Co-Founder & CEO of Prospectors, prospectors.io
Dapplica is a competent, knowledgable and professional team of EOS dApp developers. They provided extremely valuable auditing feedback that was critical to our mainnet launch. We recommend Dapplica as an excellent choice for your EOS dApp development needs. Their assistance will ensure your launch is a success and accelerate your time to market.
Aaron Caswell
Head of Blockchain Development, WAX.io
Dapplica did a fantastic job building and supporting ZEOS for us. They were very knowledgeable and professional. I look forward to our next project together.
Roman Skaskiw
Сo-founder of CryptoLions, EOS Block Producers




Interested in working with DApplica?